Friday Night Lights (Dec 29th, 2023)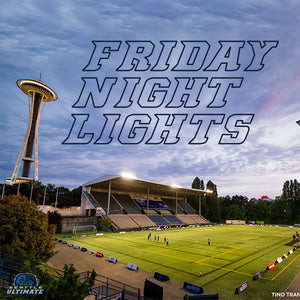 Play Ultimate under the Space Needle!
5v5 Open Ultimate Tournament

Friday, December 29th

7:00pm-10:00pm


Register in groups of 1-5 players... combined for teams of ~10 players.

Seattle Memorial Stadium, under the Space Needle

$25 per player includes a disc and a home game ticket
Scholarships available - email xtehn@seattlecascades.com 
Seattle Cascades is hosting a community tournament under the lights of Memorial Stadium. The 5-v-5 tournament is intended for players 16+ years old who compete in the Open Division - all genders are welcome at this event, but there will not be any rules or guidelines that stipulate the ratio of male-matching and female-matching players on the field. In other words, this isn't a Mixed gender tournament.
Players register in groups of 1, 2, 3, 4, or 5… and then teams of ~10 players will be formed with the intention of creating a competitive tournament. In other words, organize with friends you'd like to play with or just sign yourself up!
Each person who attends the tournament will get a disc and ticket voucher to any regular season home game! The winners of the tournament will get a prize package with some ultimate SWAG.
Registration: Pre-registration is required, and spots will be filled on a first-come basis. Players must be at least 16 years old.
Location 
Seattle Memorial Stadium
401 5th Ave N
Seattle, WA 98109
CHECK IN 6:30-6:50:
You may enter Memorial Stadium as early as 6:00pm. When you check in, we'll confirm that you're registered and hand you your disc & ticket voucher.
WHAT TO BRING:
- Cleats for playing on artificial turf.
- A light and dark jersey option.
- Appropriate clothing. Keep an eye on the weather.
- A water bottle. (We'll provide coolers for re-filling your bottle.)
- An appetite for good sportspersonship and strong competition!
Under 18? Download both of these forms (A+B)

Over 18? Bring a signed liability waiver, or sign one when you check in. (A)
RULES
-- We'll play by the USA Ultimate 11th edition rules, with the exceptions and conditions noted below.
-- Game play will be 5v5, with a stall count of 10 seconds. The team that scores will pull the disc to commence the following point.
-- Games will be timed, with a pre-determined hard cap.
-- Occasionally we will take a ~10m transition period between rounds for community building or to raise awareness towards a social justice issue. 
STAFF:
Xtehn Frame
tba
REFUND POLICY:
If your plans change and you'd like a refund for this event, email xtehn@seattlecascades.com by Wednesday, 12/27.